In honor of Father's Day, I thought I'd share a photo of my sisters and I with our Papi on his birthday in March. (I'm the second to the right.) Yes, this poor sweet man had a house full of girls with no boys insight (well, boys of his own). Now the tables have turned and he has grandsons here and grandsons there with only one little granddaughter insight plus one more on the way whose gender remains to be unknown. (And nope, it's not baking in my oven, if you know what I mean.) Hopefully, I'll be able to add another little girl into the mix someday. I would love to see my husband have a special bond with a little girl just as we have with our Papi. There's nothing like being a Daddy's girl.
*******************************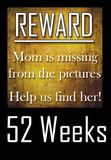 Most moms have an obsession of photographing their families that they rarely are ever seen coming out from behind the camera. That's why Carin @
Forever in Blue Jeans
created a new challenge for all blogging mamas. It's called 52 Weeks. Every week moms will be stepping away from their cameras and sharing the spotlights with their loved
ones. Looking through my photos, I discovered that it's so true. I'm missing in action in most of the shots. And really it doesn't bother me one bit. Well......maybe just a little. I would have to say that when I look at pictures of me growing up, my favorites aren't the ones of me alone. They're the ones that capture me with my family, especially my parents. So, I'm excepting the challenge.
**********************************