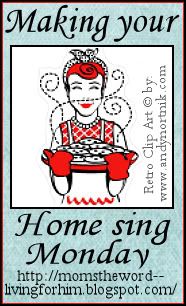 Today I thought I'd try something new and join Nan at
Mom's The Word
for
Making Your Home Sing Monday
. Every time you take pride in your home and in your family, you make your home sing.
Nothing is more rewarding than being a stay-at-home mom, especially when you're the one teaching you're little one his ABCs and 123s. I'm so proud of my little guy. He's like a little sponge when it comes to learning. It's always been that way. By the time he turned 2, he knew all the colors of the rainbow. I couldn't tell you how proud I was of him! Then, not long after turning 2, Mason discovered the computer and the Playhouse Disney website. Once again, I was amazed at how the knowledge came to him with such ease. Now, he navigates the computer as if he were a 3yr old Bill Gates. It's nothing short of amazement!
I can't help but wonder at times if my staying at home has anything to do with it. I'm no where close to being a rocket scientist, but I'd like to think that my one-on-one time with him has influenced him in some way.
Right now we're working on phonics. Yesterday I asked him to spell his name and slowly but surely, HE DID IT!!! Both our faces just lit up.
Sometimes, all it takes to making your home sing is to give your kids a little time and attention.