Last week, I had the opportunity to do something totally out of my character. I joined 6 bloggy ladies for dinner at the Streets of Southpoint Mall in Durham. Why was this totally out of character for me, you say? Well, if you know me personally, you know that I'm a pretty shy gal. I don't usually let my guard down in the presence of strangers. But these ladies weren't strangers to me, even though it was our first time meeting. In a way, I felt like I was meeting up with my pals. I had gotten to know most of them in a personal sort of way by reading their blogs. And I could tell that it was going to be a blessing meeting them. From left to right, the bunch included
Mimi
,
C.C
,
Liz
,
Mel
,
Tara
, Me &
Beth
.
I hit the road for 2 1/2 hrs to reach our destination and meet them. I had never been to the Streets of Southpoint. It was such a treat to visit somewhere new.
Beth suggested we eat at Firebirds. It was a great choice! The food was delicious and the staff was such a delight. The waitress at a neighboring table was kind enough to snap our photos. She didn't have a clue of what she was getting herself into. We all brought our cameras. Yes, 8 cameras, sitting and waiting. Mimi and Liz brought their fancy shamancy cameras. The flashes lit up the whole restaurant. You'd think there were famous movie stars in the place.
It was the neatest little thing! I had never heard of a blog book. It's made by a company called
SharedBook
. I've got something new to add to my most wanted list. I can just imagine myself sitting in my rocking chair with a head full of gray hairs sharing my blog book with a room full of grand kids.
I was so excited to meet Mimi, one of my partners in crime at
Five Moms and a Blog
.
It was well worth the 5 hr. drive. I had so much fun with these ladies. I hope we meet again!


*******************************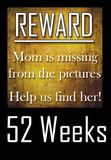 Most moms have an obsession of photographing their families that they rarely are ever seen coming out from behind the camera. That's why Carin @
Forever in Blue Jeans
created a new challenge for all blogging mamas. It's called 52 Weeks. Every week moms will be stepping away from their cameras and sharing the spotlights with their loved
ones. Looking through my photos, I discovered that it's so true. I'm missing in action in most of the shots. And really it doesn't bother me one bit. Well......maybe just a little. I would have to say that when I look at pictures of me growing up, my favorites aren't the ones of me alone. They're the ones that capture me with my family, especially my parents. So, I'm excepting the challenge.
**********************************